Part of Anna Leonowens Gallery Systems, the Treaty Space Gallery (TSG) is one facet of NSCAD's ongoing commitment towards Indigenous knowledge mobilization and continued support of Indigenous contemporary art.
As Indigenous and non-Indigenous peoples living in Canada, "We Are All Treaty People". Since its creation in 2017, the TSG has strived to embody this reality by providing ongoing support of exhibitions and events exploring the diversity of Indigenous lived experiences, contemporary realities, histories, and artistic practices. We call upon Indigenous and non-Indigenous professional artists, NSCAD students, and community members to submit exhibition proposals that respond to the UN's declaration of the Decade of Indigenous Languages, themes of cultural revitalization, and notions of treaty.
Through various educational approaches, this curatorial initiative aims to foster a well-rounded understanding of Indigenous cultures, treaties of Mi'kma'ki and Turtle Island, and each of our roles as treaty people. This space explores concepts of Indigenous and non-Indigenous 'co-existence' stipulated in the Calls to Action by the Truth and Reconciliation Committee (June 2015) as a key framework towards decolonizing together. We have committed to generating opportunities for all members of the NSCAD and Halifax communities to learn more about treaty histories and participate in upholding accountability. Much like the Anna, the Treaty Space Gallery operates in a similar spirit by showing the work of leading artists alongside NSCAD student work. We aim to foster the merging of current Indigenous community-based knowledge with productive academic and artistic research."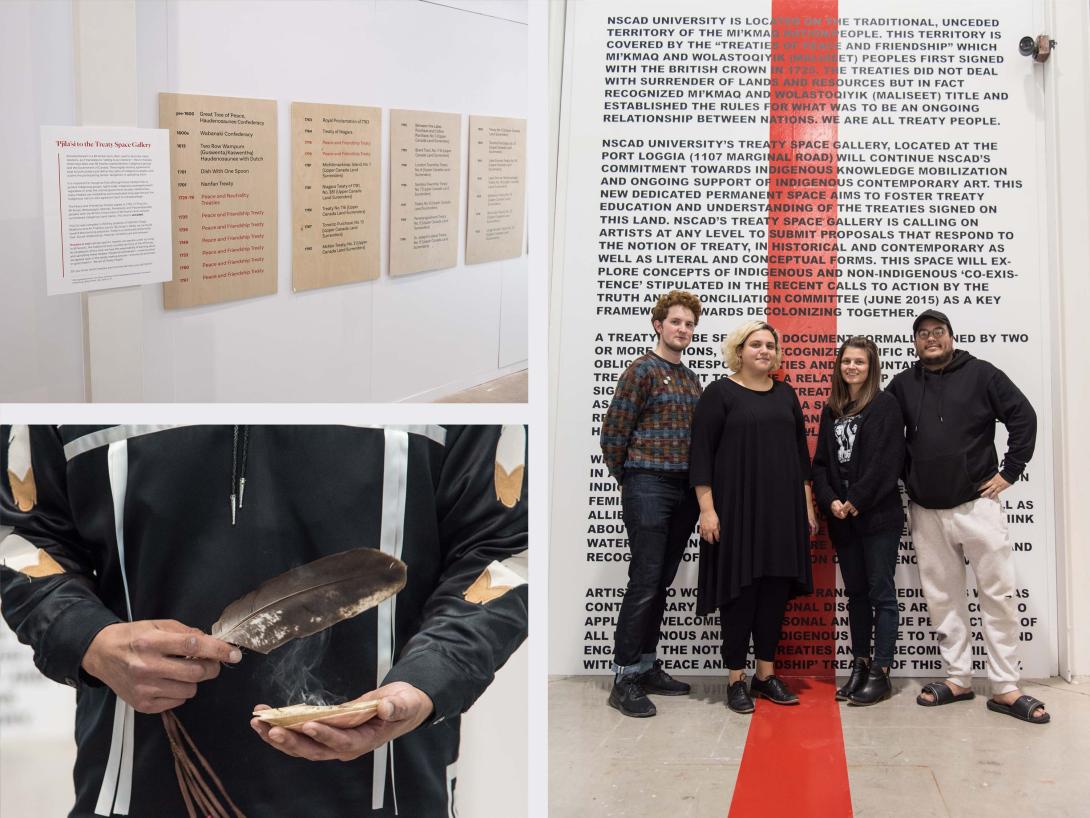 Clockwise, from top left: Ankukamkewe'l, 2023; Treaty Space Gallery Opening Reception and Smudging Ceremony, 2017.